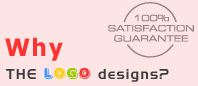 Customized Professional Results
Unique Creative Designs
Unlimited Concepts & Revisions
Fast Turnaround Time
Designers are Logo Specialists
Affordable Price
100% Satisfaction Guarantee
More...
100% Money Back
Guarantee
---
We guarantee that you will be happy with the logo we design for you. There is no risk on your part. If you are not satisfied in the design process, just tell us why and we will correct the problem or return your money.
We have created a proven 6-step process to provide you with professional, top quality logos at the lowest possible price. This process as outlined below enable us to create unique logos for each of our unique clients.
Pay for your Logo
As we don't spend much of our time and resources in marketing our services, we keep the price range for our logo designing solutions low for clients. Unlike the local logo designer, who spends time planning marketing activities, we simply start the logo design process as soon as we get paid for it. But you never have to worry about being completely satisfied with your logo because:

| | |
| --- | --- |
| | We provide you with 24/7 email support, and |
| | We offer a money-back guarantee. |
Tell us about your business
The process will start after you fill up a detailed order form which will require you to fill up all information we would need to design your logo.
We will then send you a confirmation email followed by further communication in case we require additional information.
We design multiple logo concepts. You pick one to refine
Our logo designing team starts working as soon as they get your information and create 6 to 8 concepts within 48 hours.
You will be receiving our logo design drafts as attachment in your emails. Alternatively, you can also view them in member area in our site. You will receive a password for entering the site after we receive your payment.
The next step is to select the design you like best and provide us with your choice and your comments. Our designers will be happy to assist you if you need their suggestions and advice.
You can send us your comments by posting it in your own member area in our website. You can also arrange an appointment to chat with our design team
We revise your logo design based on your feedback
We will incorporate your feedback and comments in our revisions. Sometimes our logos get accepted in the first round and sometimes additional revisions are required.
You will get your revisions within 48 hours of your response. If we need additional information to complete the logo designing process, we will contact you via email.
You choose your Logo
After all revisions you will now select the revision you liked most.
Our designers will also assist you if you need any help, advice and suggestions to make your final choice.
We deliver your final Logo Files
Once you are satisfied with the revisions, we will send your own customized logo in different file formats (EPS, AI (vector), JPEG, BMP, TIFF, and GIF) alongwith the font/s.
We will send you the finals via email.
Full copyrights to final design will be transferred to you.
* Businesscard, Letterhead, Envelope and Website are excluded from this package.